Payment process
The price charged to the customer is the price indicated on the order confirmation sent by Créatelier Caracolle.
In order to let you choose your payment method, Créatelier Caracolle established all payment methods. You can choose from the following payment systems:
Immediate payments:
credit card MasterCard/Visa
PayPal
Blue Card for France
Deferred payments: transfer, at the store (onsite)
The account is charged the full amount of the order made by the customer. In case of rupture Créatelier Caracolle is committed to giving a purchase coupon or credit the customer within 15 days of the order.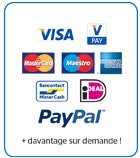 Security payment
For payment with a credit/debit card, Créatelier Caracolle via Athos ensures secure payment system "CM-CIC Payment" and guarantees the confidentiality of payment. Créatelier Caracolle doesn't in any way have bank details entered during the online payment, which is processed by a third party banking organization. The connection between the client computer and the bank partner site when purchasing is fully secure and encrypted during data transfer. In case of payment refusal, the order is not made available to the client. Créatelier Caracolle reserves the right to not proceed with the order from a customer for whom issues already occurred. Créatelier Caracolle in any event retains ownership of undelivered items until full payment by the customer.